ict security products, housing, remote services and re-marketing
ict security products
housing
re-marketing
press
webmail

remote support of PC's, Servers and networks (LANs, WANs etc.)


remote support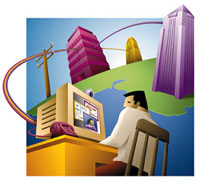 Alpensoft ONLINE provides on-line support, remote back-up and monitoring services to PC's, LANs, internet servers, and workstations (Linux and/or Microsoft Windows) according to our customer's needs. Hot-line and stand-by services can be provided, at rare times as well, when others are not available or too expensive.

Periodic back-up's can be run automatically in the background and the back-up data can be stored at a customer's site, or secure in our own data center, as per request and definition (SLA'a).

Ask for our anti-spam / anti-virus solutions, and our new monitoring / surveillance services.

AGB's